BUENA VISTA
Type: Repeater
Callsign: KNM63
Location: Extreme southern end of the San Joaquin Valley, about 9 miles north east of Maricopa. Some what remote and amongst acres of cotton fields.
LAT/LONG: 35.05.15/-119.14.30
Paths: Tehachapi Mountain and Temblor Range .
Notes: The Buena Vista repeater is on one of the first TD-2 routes to be
constructed, the route was built on a rush basis at about the same
time as the New York to Chicago TD-2 route, and opened for service on
September 15, 1950. This route carried television and message service
between Los Angeles and San Francisco. The Buena Vista repeater
wasn't on the route initially, at first microwave traffic jumped
directly from Temblor Range to Tehachapi, a distance of 63.2 miles.
Both of those repeaters are mountaintop sites with enough elevation
to provide a clear path between them.

The entire route was converted from the original delay lens antenna
configuration to the KS type horn reflector antennas in early 1965,
likely in anticipation of adding interstitial radio channels in the 4
GHz band and TH type microwave radios operating in the 6 GHz band. I
believe Buena Vista was constructed around this time, probably to
break up the 63 mile hop into two shorter hops that would be less
prone to fading. The longer the hop, the more problems there will be
with fading, especially in the 6 GHz band. The Buena Vista site can
be found on microwave route maps from 1966, but not on 1960 route
maps. TH-3 radios were added to Buena Vista in 1970, along with 6
GHz waveguide networks on the tower.

At 218 feet, the tower is one of the highest free standing microwave structures in California next to Shirley Peak. Tower height is necessary to bridge the vast expanses of Maricopa Flat. Per signs on fence site is still owned by American Tower.
(Thanks to Terry Michaels for the above information)
Click on picture for larger size

Site from a distance..pretty flat out here.

Overall view of the tower structure.

Tower base and waveguids.

Microwave detail, horns pointed toward Temblor Range .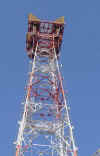 Top of tower.

Overall view of equipment building.

Emergency Generator exhaust and vents.
Back to Microwave Sites: Northern California Microwave Sites Page 1
Back to Main page: Telephone Central Offices