INLAND EMPIRE CENTRAL OFFICES
AT&T SAN BERNARDINO REGIONAL-TOLL OFFICE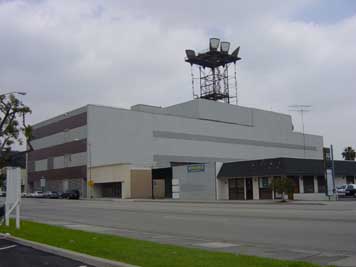 San Bernardino is a large regional CO and at one time was a Class 1 Regional Center for AT&T's long distance hierarchy switching plan. This center built during 1954-1955, handled all the toll calls from the southern California and Arizona areas, then effectively routed them over the national long distance network. This office operated in this capacity from about 1950 through the late 1980s.
The reason San Bernardino was chosen over the mega hub of Los Angeles was if in the event of a nuclear war or major earthquake, it was thought that San Bernardino although only 60 miles from Downtown LA, would be more "survivable" and allow the continuity of telecommunications (Also the LA Madison Complex was seen as a highly vulnerable target to earthquakes.) San Bernardino was close yet far enough away to provide the continuity during an attack or subsequent restoration of the urban comm. systems.
San Bernardino played a vital role in SAC communications during the cold war as being the main hub for traffic coming from March AFB (A SAC regional command center), Norton AFB and George AFB.
Direct trunk groups were routed to Los Angeles, Phoenix, Anaheim and San Diego. Later a group was established between Las Vegas and San Bernardino became the host office for the AT&T Las Vegas Toll Office. L-3 cables were also routed through this site with direct connections to Mojave, Blythe (part of the LA-El Paso route) and Los Angeles, while Fiber Optic connected Blythe , Corona and Ontario. 4ESS equipment was installed in March of 1989.
Microwave paths from San Bernardino were: Keller Peak, Ranger, Box Springs, Santiago Peak, Lytle Creek and Strawberry Peak.
Its also interesting to note that this AT&T office was a "stand-alone" and didn't collocate other telephone providers. At the time San Bernardino was served by General Telephone, an independent and AT&T would not collocate with other then "Bell" providers. So AT&T built their building just a few blocks south of the General Telephone San Bernardino main central office.

Northeast side of building showing original office plus later addition toward the left.

Front of building, note stylized architecture arches.

Entrance to building.

Another view of main building. Horns pointed toward Strawberry Peak.
Back to: Inland Empire
Back to: TELEPHONE CENTRAL OFFICES