MINNEAPOLIS CENTRAL OFFICES
MINNEAPOLIS "DOWNTOWN" CENTRAL OFFICE
QWEST TANDEM and AT&T TOLL OFFICE
Thanks to Jeff in Minneapolis for photos and info
The Minneapolis "Downtown" central office serves Qwest as the main regional tandem and AT&T for long distance and toll services. The office was originally built in the 1920s in the "art deco" style by Northwestern Bell and was later added on to in the mid 60s. Minneapolis became a AT&T Long Lines microwave hub when TD-2 microwave service was introduced on July 14, 1953 with the completion of a route from Chicago . Minneapolis was classified as a Section office under AT&T Distance Dialing Network and had direct trunk connections to 7 Minnesota primary offices and the Chicago Regional office. Minneapolis is an international gateway and provides direct service into Canada. In May of 1980 AT&T installed #4ESS equipment. Today the "Downtown" Tandem was a US West facility and now Qwest. It serves as a major regional fiber optic hub with connections to Duluth, Fargo, Des Moines, La Crosse, Milwaukee and Winnipeg Canada.
Microwave paths from Minneapolis were: Newport, Wyoming, Soderville, Zimmerman and Lonsdale.
By far one of the most "classic" central offices in the nation.

Looking toward the northwest, overall view of CO.

Looking at the northwest face of the CO.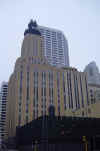 Looking toward the southwest side. The dark structure is foreground is Qwest parking structure for CO activities.

Microwave structure looking toward the northwest. Horns pointed toward Lonsdale, Newport and Wyoming.

Looking toward the southwest. Horns pointed toward Soderville and Zimmerman.

Main entrance (Note marble and intricate design work)

AT&T and Qwest logo on northwest side of building.

This CO actually has windows and if you look close you can see one of the Main Distribution Frames.
Back to: TELEPHONE CENTRAL OFFICES